26
DÎNDARÎ Û DÛRMAYÎNA JI XWEDÊ
Dibe ku we ev peyva pêşiyan bihîstibe: "Standarda tamkirina be ka tiştek çma û çawa pêkhatiye her tim 20/20 e." Standarda "20/20" ji hêla optometrîstên (Berçavkfiroşên rajeya çavên nabînin dipîvin.) ji bo dîtina net hatine tayînkirin. Ger hêza we ya dîtinê 20/20  be pêdiviya we bi bikaranîna berçavkê tune ye.
Famkirina piştî pêkanîna tiştekî bê ka ew tişt çima û çawa pêkhatiye elaqa wê piştre nêrîna li tiştekî berê qewimiye re ye. Nêzîkdayîneke wisa destûr dide ku çalakiya em an jî yekî din bike em bibînin. Lê belê piştî ku hasil di mûsil re derkeve û pê ve. Ji ber vê yekê nêzîkdayîneke wisa kêrî me nayê.
Lê dîsa jî dema ku mesele famkirina gelek sedsalan ve çîroka ji hêla Xwedê ve hatiye vegotin û peyama Wî be nêzîkdayîneke wisa fêdeyeke mezin dide. Destûrê dide ku em gelek astengên mezin derbas bikin û rastiyê ji xelatiyê j hev veqetînin. Ji ber vê yekê Îsa ji şagirtên xwe re wiha got.
"Her şad û bextewar bin ku çavên we dibîne, guhê we dibihîze. Ez rastiyê ji we re bibêjim, gelek pêxemberan gelek kesên di rêya rast de xwestin tiştên ku we dîtiye bibînin, lê belê nedîtin. Tiştên we bihîstin bibihîzin, lê nebihîstin." (Matta 13:16-17)
Em wekî yên ku piştî ku cara yekem Îsa daket rûyê erdê jiyane, ji ber ku em derfeta ku dîsa vegerin li dîrokê binêrin, îmkana ku em lêgerînê li ser Nivîsên Pîroz ên em pê temam dibin bikin û em îmkana ku bi awayekî eşkere plana nuwaze ya Xwedê dibînin em pir şad û bextewar in!
Niha em di hişê xwe de bi vê ramanê û em babetên ku em di rêwîtiya Nivîsên Pîroz de bûne şahid bi bîr bînin û careke din em vegerin "Pirtûka Destpêkan."
NÊRÎNA PİŞTRE YA LI KAYÎN Û HABÎL
Gelekî net e beşa çaremîn ya Pirtûka Afirînê hem Kayîn hem jî Habîl bi pirsgirêkeke guneh hatin dinyayê. Dema ku mezin bûn xwestin ku ji Xwedê re rajeriyê bikin. Lê belê bi tenê rajerîkirina yekî hat qebûlkirin.
"REB, Hebîl û tiştê ku wî pêşkêş kiribû qebûl kir. Kayîn û tiştê ku wî pêşkêş kiribû red kir." (Afirîn 4:4-5)
Piştî ku mirov çîroka Rizgarkerê gunehkaran Îsa guhdar dike bi nêzîkdayîneke piştre ya li gorî Pirtûka Pîroz û bê ka REB çima bi hezaran salan berê bê çima tiştê ku "Habîl pêşkêş kiriye, qebûl kiriye lê çima tiştê ku Kayîn pêşkêş kiriye red kiriye" hêsantir fam bike.
Berxikê ku Habîl destxistibû qirikê Îsayê berxikê Xwedê yê ku di oxira gunehkaran de Xwîna xwe dirijîne destnîşan dike. Mahsûlên axê yê n ku Kayîn pêşkêi dike Îsa destnîşan nakin.
Habîl dema ku li bûyera ku wê di demên pêş de pêk bê dinêrî îro em bi rêya mirina Îsa û vejîna Wî li bûyera di rabirdûyê de ji bo me hatiye temamkirin, dinêrin.
"Xwîna Mesîh Îsa me ji hemû gunehan pak dike." (Yuhannayê 1., 1:7)
ÎMANA KU RIZGAR DIKE
Xwedê Habîl çawa ku îro gunehkaran dibexşîne wisa bexşand. Gunehkarek li xwe qebûl dike ku gunehkarî kiriye. Ger bi Reb û rizgarkirina Wî bawer bike tê efûkirin û ji bo wî diyariya heqîqetê ya Xwedê tê bexşandin. Ev rastî ji bo hemû pêxember û bawermendan derbasdar e.
Mînak, wekî em berê fêr bibûn Birahîm, "îmana xwe bi REB kir û Reb jî ev yek jê re wekî heqîqet nivîsand." (Afirîn 15:6). Îfadeya Birahîm "îmana xwe bi REB anî" tê wateya ku tiştê ku Xwedê dibêje rast e û baweriya xwe pê tîne. Birahîm baweriya xwe bi gotina Xwedê anî. Tenê îmana xwe bi Xwedê anî.
Wekî pêxember Birahîm Qiral Dawud jî baweriya xwe bi soz û ahdên Xwedê anî. Dawud bi dilekî kêfxweş ev tişt nivîsandin: "Her şad û bextewar be bila ew mirovê ku tê bexşandin û gunehê wî tê veşartin. Her şad û bextewar be mirovê ku sûcê wî ji hêla Xwedê ve nayê hesibandin!" (Mezmûr 32:1-2). Dawud di heman demê de ev dilînên xwe yên bi peroş jî nivîsandin: "Di hemû temenê min de bi tenê ew ê hezkirin û başî min bişopîne ez ê her dem li mala REB rûnim."(Mezmûr 23:6).
Gunehên kesên ku beriya Îsa were jiyanê wekî Habîl, Birahîm û Dawud ji ber ku Reb Xwedê re û bi plana wî îmana xwe anîne hatibû nixumandin. Piştre dema ku Mesîh min deynên wan yê guneh ji pirtûkan ku lê hatibûn qeydkirin bi awayekî ebedî hatin betalkirin.
Îro em yê kesên ku piştî dewrana Mesîh dijîne. Mizginiya Xwedê ev e: Bi şertê ku hûn îmana xwe baweriya xwe pê bînin ku Reb Îsa ketiye şûna we û miriye û tiştên ku bi vejîna xwe ya bi serfirazî bînin wê Xwedê gunehê we yên li pirtûkan qeydkirî jê bibe. Ew ê heqîqeta Mesîh li ser hesabê we bihesibîne û ji bo we "Li mala Reb malekê bi awayekî ebedî" teqez bike.
Bi şertê ku hûn îmana xwe pê bînin hemû tiştên behskirî û ji wan zêdetir ew ê bibin yê we. Îmanpêanîna bi REB Îsa tê maneya bawerkirina bi wî û hemû tiştên ku ji bo we kiriye. Ji bo ku hûn wateya îmanê çêtir fam bikin bifikirin ku hûn di hundirê odeyeke ku gelek kursî tê de ne dimeşin. Hinek kursî şikestine. Yên din jî gelekî kevn in û hindik mane bişkên. Lê hinek jê jî gelekî qenc dixuyan. Lê dema ku hûn ji nêz de li wan jî binêrin hûn ê bibînin ku hin hêlên wan î qels bûne hene û hûn ê bigihîjin qeneetê ku nikarin bi wan jî baweriya xwe bînin. Di wê kêliya ku fikra di odeyê de kursiyeke tebût tune ye bi we re çêdibe kursiyeke gelekî rind hatiye çêkirin û tebût bi ber çavê we dikeve. Hûn ê ber bi vê kursiyê ve bimeşin û li ser wê rûnin. Hûn ê îmana xwe bi kursiyê bînin. Hûn ê bi rihetî li ser wê xwe rihet bikin. Hûn baş dizanin ku ew dikare barê we hilgire û ew ê di bin we de neşkê û hûn ê nekevin erdê.
Îsa Mesîh yên di Wî de li karên ku Wî bi dawî kiriye de tu carî hêvîşikestî nake.
ÎMANA KUJÎNER
Îmana me tenê bi qasî tişta em îmana xwe pê tînin baş e. Her kes xwediyê îmanê ye. Lê herkes bi heman tiştî îman nake.
Habîl îmana xwe bi Xwedê û awayî bexşandin û heqîqeta wî anî.
Kayîn îman bi ramanên xwe û hewldanên xwe anî.
Kayîn û yên mîna Kayîn teşhîs û çareseriya lezdanî derbarê pirsgirêkên guneh de red dikin mirov wan dikare bişibîne wî hokkabazê ku dikir mar bilîze ye di televîzyonê de. Zilam ji hêla kobrayekî mîna zebelehekî hat pêvedan. Lê red kir ku ew derziya panzehîrê ya ku ew ê jiyana wî xelas bikira. Got qey ez bi qasî ku karibim li ber jahra mêr di ber xwe bidim bi hêz im.
Ew zilam bawermend bû. Îmana wî bi hêz bû. Lê îmana wî kêrî tiştekî nedihat. Ji bedêla ku baweriya xwe bi çareseriya ku BIJÎŞK pêşkêş kiribû bianiya, baweriya xwe bi xwe anîbû.
Bedêla vê bijartina xwe bi jiyana xwe da.
Îfadeya Nivîsên Pîroz eşkere ye. Ji bedêla rizgarkirina Xwedê îmanpêanîna hewldanên xwe yê di rêya Kayîn de rê ve çûn bi zilûmeteke ebedî re rû bi rû mayîn e." (Yahûda 1:11-13). Ramana Kayîn ev e: mirovekî dikare başiyên Xwedê bi hewldanên xwe bi dest bixe. Her daîm li dijî plana rizgarkirina Xwedê derketiye.
Ligel vê yekê jî îro gelek mirov "ji dil û can di rêya Kayîn de dimeşin."
NÊRÎNA MIROV
Rojekê hinek Cihûyên dîndar ji Îsa ev tişt pirsîn: "Ji bo ku em karên ku Xwedê dixwaze em bikin divê em çi bikin?" Îsa got: "Karê Xwedê ev e, divê hûn îmanê bi kesê ku Wî şandiye bînin" (Yuhanna 6:28-29). Van lêkolîneran dixwestin "kar bikin". Îsa ji wan re got "îmanê bi Wî bînin."
Şaşmayîna Cihûyan a piştî bersiva Îsa bi tenê ne ya Cihûyan tenê bû ev şaşmayî di nava mirovên din de jî hebû.
Xwişka min û mêrê wê li herêma çiyayîn a Papua-Gineya Nû dijîn. Ew û yên bi wan re dixebitin bi gelên qebîleyên li cih û warên xewle dijîn re alîkariyên pratîk dikin. Van mirovan hînî Xwedayê rastîn û peyama wî ya jiyana ebedî di nîşeyeke xwe de, sohbeteke xwe û mirovekî li "Axaftina Xwedê" (Papûayî Pirtûka Pîroz wiha bi nav dikin) wiha radigihînin:
Zilamê ku li dîtina Îsayî derbarê 'Nanê Jiyanê' de guhdar kir, wiha got: 'Ew tiştê ku tu behs dikî zêde zêde hêsan e. Ji bo ku ez herim Bihuştê û di çavê Xwedê de pir û pak bimînim xebitîm. A niha tu ji min re dibêjî ji bo ku van tiştan bi dest bixe tenê divê tu tiştekî bikî îmana xwe Îsa bîne?
Min dîsa jî xwest ku bala xwe bidê pê ka Îsa dibêje çi, 'Nanê Jiyanê Ez im' (Yuhanna 6:35), û piştre hewce bû ku Yuhanna 6:29an dîsa bixwîne: 'Karê Xwedê îmanpêanîna we yî bo kesê ji we re şandiye ye.' Di heman demê de 3:16 jî xwend. 'Yên bi Wî îman anîne bila mehv nebin bila bibin xwediyê jiyana ebedî.' Min ji Wî pirsî gelo Xwedê bi qasî ku me rizgar bike bi hêz e an na hewcedariya Wî bi me heye an na.
Zilam keniya, 'Bê guman Ew bi têra xwe xurt e. Tu hewcedariya Xwedê bi me tune ye.'
'Wê gavê li gorî gotina Xwedê ji bo ku tu herî bihuşta tu hewcedariya Xwedê bi karên te heye?'
Zilam serê xwe xwar kir. Bêdeng bû û kûr û dûr fikirî."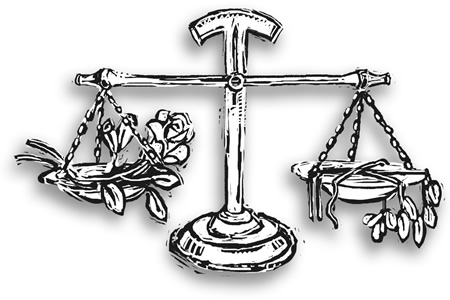 Digel ku Peyama Xwedê gelekî eşkere bû jî, mirovên li rûyê dinyayê ji gelek qebîleyên li herêmên xewle bigre heta yên xwedî çand ên endamê hewra, dêr û mizgeftan- ji dil û can xwe bi wê fikrê ve girê didin. Di roja darizandinê de Xwedê ew ê tiştên baş û xerab yê kirinê têxe sêniyê mêzînê. Ger rajeya karên baş bigihije %51ê ew ê herin bihuştê, ger rajeya karên xirab bigihije %51ê an ji wê rajeyê derbas bike ditirsin ku herin dojehê.
Zêdebûna karên baş ji karên xerab -an jêbirina xenenî gunehan- di dadgehên rûkalî de qet nayên bikaranîn. sîstemeke adaletê yê wiha di dadgeha Xwedayê ezmanî de jî nayê bikaranîn.
Li ser vê mijarê baş bifikirin. Gelo tiştê ku hûn dixwazin bi rastî jî dadgehkirina we yê ji hêla Xwedê û daxwaza we ya ku hûn dibêjin divê li gorî başî û xwefedakirina we be?
Şikir ku ev "teoriya wezinandinê" di pirtûka Xwedê de tune ye.
STANDARDA XWEDÊ
Xwedê dawa bêhempatiyê dike.
Bi tenê yên ku ji Xwedê diyariyên rastiyê stendine dikarin bi Wî re bijîn. Di roja darizandinê de ger di qeydên we de lekeyek biçûçik jî hebe hûn ê neçin bihuştê. Xwedê heqîqeteke bêhempa ji we dixwaze.
Guneh di çavê Xwedê de bi qasî berateya berazekî ku dirize mirov dikerixîne. Ma gelo mirov berateyeke ku dirize parfum bike ew ê rizandin û bêhnê ji holê rake? Digel vê yekê çi qas merasîmên olî bên li darxistin bila bê li darxistin dê ev yek kirêtbûna me ji holê ranekin. Û ew ê nikaribin bikin ku Xwedê me qebûl bike.
Çawa ku ne mimkun e ku em bi xweşbînî li niqutek jahr di nava çaya xwe de binêrin Xwedê jî li gunehekî tenê ji bi xweşbînî nanêre. Gelo mirov avê li çayê zêde bike ew ê hêza jahrê yê mirov dikuje kêm bike? Di heman demê de hejmara wê me saf û safî nekin û ji darizandina ebedî xelas nekin.
Ger mesele bibe xelasbûna ji deynê gunehan û salihbûna di çavê Xwedê de tu çareya me tune ye. Lê şikir ji REB re em ne bêhêvî ne. ew ji bo ku em di qatê Wî yê saf û safî û bêhempa de bi awayekî ebedî bijîn hemû hewcedariyê me ji xwe dayê.
ÎMAN Û KAR
Xwedê ji hemû kesên ku cazayê gunehên xwe daye û îman bi Îsa Mesîh aniye wiha dibêje: "Hûn bi rêya îmanê (Bi tiştên ku Mesîh ji we re kiriye bawer bibin) bi lutf (Başiya ku nehatiye heqkirin) rizgar bûn. Ev ne serkeftina we ye. diyariya Xwedê ye. ne diyariya tiştekî baş e ji bo ku kesek pê xwe bibixudîne."(Efesî 2:8-9)
Dê li bihuştê cihê ku mirov xwe bibixundine tune be.
Rizgarbûn bi rêya lutfê ye. Rizgarbûn diyariya Xwedê ye. Tiştekî bi mînet mirov bistire ne tiştekî ku mirov heq kiribe; 'ji bo ku tu kes xwe nebixudîne' ne madalyeyeke mirov bi dest bixiye. Lê dîsa jî tiştekî xembar e. Di vî warî de tevliheviya hişê mirovên oldar berdewam dike. 
Posteya Elektronîk

Di îman pê anînê de tiştên herî girîng ev in. Bawerkirina ji Xwedê, kirina başiyê, dûrmayîna ji karê nebaş e. Tiştên ku ew ê me xilas bikin ev in.
Ger rizgarbûna ji darizandina ebedî û mafê jiyanê yê bi Xwedê re bi cehda me bihata bi destxistin, wê demê ma yê çawa fam bikira bê ka em çi qasî zanîbaya ji bo ku em di bihuştê de cihekî bi dest bixim me bi qasî ku hewce ye başî û xirabî kiriye an na? Qet me yê nikarîba teqezbûyîna rizgarkirina xwe bi dest bixista.
Kêm zêde beriya niha bi sê hezar sal pêxember Yûnis wiha destnîşan kiriye: "Rizgarkirin ji Reb tê."(Yûnis 2:9)
Ji ber vê yekê bila hemû pesinandin para Xwedê bin!
"Hûn bi îman pe anîne bi lutfe rizgar bûn, ev ne serkeftina we ye, xelata Xwedê ye.  Ji bo ku kes xwe nepesinîne ne xelata karên baş e." (Efesî 2:8-9)
Gotina Xwedê eşkere ye. Ji bo ku me ji cezayê guneh rizgar bikin bawerkirina me ya bi karên xwe red kirin, xelata rizgarkirinê ya Xwedê ye.
Di vê rewşê de kirina karên baş û dûrmayîna ji gunehan di kîjan nuqteyê de digihijin hev? Bersiva vê pirsê ayeta piştî vê dide me:
"Ji ber ku em tiştên ku Xwedê çêkiriye ne, ji bo ku tiştên baş yên Wî berê amade kiribûn bikin, em di Mesîh Îsa de hatin afirandin." (Efesî 2:10)
Cudahiya di navberê de eşkere ye: Em nikarin bi rêyakarên baş rizgar bibin. Ji bo karên baş em ê rizgar bibin.
"Xwedayê Berz û rizgarkerê me Îsa Mesîh ji bo ku me ji hemû sûcan rizgar bike ji bo ku me dawerivîne û bike gelekî aydî xwe yê ku xîret dike ku başiyê bike, me ji bo xwe feda kir." (Tîtûs 2:13-14)
Di destpêka vê pirtûkê de ev şîroveya ku yek ji pêşiyên gund ku ji hevalê min re kiribû, hebû. "Çûna bihuştê tu bi kirinên xwe yên baş heq dikî…"
Gotina Xwedê destnîşan dike ku romana vî zilamî xelet e.
Tu kes çûna bihuştê bi bingeha "karên baş" heq nake. Lê belê dîsa jî kesên ku diyariya Xwedê jiyana ebedî stendine ji bo ku xwe ji xirabiyê biparêzin û ji berzbûna Xwedê û bereketa mirovên din dê bixwazin başiyê bikin.
MÊWE NE KOK E
Karên baş tu carî nebûne taleba rizgarkirinê, lê divê her dem bibin encameke rizgarbûnê. Mînak Îsa şagirtên xwe fêrî vê kir:
"Ez fermaneke nû didim we. Ji hev hez bikin. Çawa ez ji we hez dikim hûn jî ji hev hez bikin. Ger hezkirina we ya li hember hev hebe her kes wê bi vê yekê zanibe ku hûn şagirtên min in." (Yuhanna 13:34-35)
Gelo şertê yekem yê rizgarbûnê ev e? Hezkirin û eleqedarbûna mirovan mîna Îsa û ji nêz ve nêzîkbûn e? Na. Ger wisa bûya ji ber ku yê bi tenê û her daîm ji mirovan hez dikir Îsa bû em ê kes nikarîbûna biçûna bihuştê.
Divê hezkirina ji mirov û eleqedarbûna bi wan re di jiyana bawermendên heqîqî de bibe encamek? Teqez. "Ger hezkirina li hember hev hebe her kes wê bi vê yekê bizanibe hûn şagirtên min in."
Gelê Xwedê îmana xwe bi awayên xwe yên jiyanê destnîşan dikin. 1
Ji hevderxistina koka rizgarkirinê û mêweya rizgarkirinê pir girîng e. Yên di Mesîhê de îmana xwe pê anîne divê bi jiyaneke (mêweyeke) pîroz, şêrîn, fêdeker û bi disîplîn bibuhurin û bînin ziman ku mînetar in ji bo diyariya rizgarkirina (kok) Wî.
Gelê Xwedê ji bo k başbûna Wî ya li hember wan bi dest bixin tiştên baş nakin; tiştên baş dikin ji ber ku Xwedê ew başbûna ku heq nekirine îhsanî wan kiriye.
DÎNÊ QELP
Kayîn ew kesê ku cara yekem dînê "tu bixwe çêke" îcat kiriye. Ji bedêla ku di çerçeweya xwîna birxikeke qurbanê ya ji bo Xwedê nêzîkî meseleyê bibe bi raman û hewldanên xwe nêzîkî meleseyê dibe. Ji ber wê yekê duayên Kayîn Xwedê xeyidand û kerixand.
"Yê ku guh nede zagona duayê wan jî kirêt in." (Wecîzeyên Silêman 28:9)
Zagona Xwedê ji bo ku guneh binuxumîne xwîna hatiye rijandin û berxikê qurbanê an jî qurbaneke guncawî din talep kir. Ji ber ku Kayîn li gorî ku zagon talep dike nehatiye "duayawî jî gelekî nexweş û kirêt e" (çalakiyeke ku mirov jê nefret bike, kirêtkirî, xerabekirî). Dînekî Kayîn hebû hebû lê ev dîn qelp bû. Rêşekiya ku pêşkêş dikir. Rizgarkerê ku hatiye wehdkirin û mirina Wî ya di çarmixê de destnîşan nedikir. Wekî encam:
"Reb Habîl û pêşkêşa wî qebûl kir. Lê belê Kayîn û pêşkêşa wî red kir. Kayîn gelekî hêrs bûi mirûzê xwe tirş kir."
REB ji Kayîn pirsî tu çima hêrs bû. 'Te çima mirûzê xwe tirş kir. Ger te tiştê rast bikira ma qey min ê te qebûl nekiraya?' (Afirîn 4:4-7)
REB bi dilrehmî bi Kayîn re axivî û serî li ber plana adil ya Xwedê bitewîne tobe bike dem dayê.
Kayîn hew hêrs bû. Nexwest ew dînê xwe yê bi cehda xwe bi dest xistibû bi xwîna kirêt ya berxê biguherîne. Tiştê ku we bi navê Xwedê bikira li gor dilê wî dixwest wê bikira!
Û ev rêya hilbijart ew bir ber bi ku derê ve?
DÎNÊ DIJMIN
"Kayîn ji birayê xwe Habîl re got, 'Haydê em herin nav zeviyê. Dema ku li nav erd bi hevre bûn Kayîn êrîşî birayê xwe Habîl kir ew kuşt." (Afirîn 4:8)
Ew Kayînê ku ji ber ku berxikek wekî pêşkêşiyeke guneh kuştibe gelekî serbilind bû, ji bo kuştina birê xwe ne serbilind bû.
Kayîn ew ê bingeha pergala polîtîk û dînî ya ku di dahatûyê de ew ê kesên ku serê xwe li ber fermanên kevneşopî û zagonên wî netewînin biçûk bixîne, zilmê li wan bike heta wê wan bikuje, bavêje.
Îro li dinyayê gelek kesên wekî Kayîn dîndar xwedî giravî li ser parastina dînê xwe erîşkar tevdigerin û kuştinan pêk tînin.
Bi van çalakiyên xwe destnîşan dikin ku di derbarê îmana xwe de çi qasî ne cihê baweriyê ne û derdikeve halê ku be ji bo ku pirsgirêkên xwe çareser bikin çi qas hindik baweriya xwe bi Xwedayê xwe tînin.
Zilamekî li Dewletên Yekbûyî yên Emerîka dijî yê ku em bi rêya posteya elektronîk bênavber ji hev re dinivîsin ji me re ev nivîsî:
Posteya Elektronîk

Ew kesê dawî yê ku li ber çavê me ji Pêxemberê Pîroz re dijûn kir, piştî ku dijûn kir bi sê saniyan de diranê xwe yê pêşiyê daqurtand. Ji ber ku min dizanîbû ew dema careke din dijûnê bike ew ê bi serê zimên bipeyive ez kêfxweş bûm.

Pûtperest ya bila dîn biguherînin ya jî bila bimrin. Nuqte.
Gotin û çalakiyên vî zilamî bi van gotin Reb Îsa re dijberî hev in: "Lê ez ji kesên ku li min guhdar nakin, van dibêjim: Ji dijminên xwe hez bikin, qenciyê bi kesên ku ji we nefret dikin bikin. Ji bo kesên ku lanet li we dikin başiyê bixwazin. Ji bo yên heqaretê li we dikin dua bikin." (Lûka 6:27-28) û dema Îsa di çarmixê de bû yên xwe xistine çarmixê wiha dua kirin: "Bavo wan bibexşîne, ji ber ku nizanin çi dikin!" (Lûka 23:34) 2
KAYÎNÊ KU TOBE NEKIRIYE
Ka vegerin çîroka Kayîn. Kayîn piştî ku birê xwe kuşt Xwedê fersendek da Kayîn ji bo ku fikrên xwe yê xelet û ew rêyên xirab dabû ber xwe vegere tobe bike.
"REB ji Kayîn pirsî, 'Birayê te Hebîl li ku ye?' Kayîn wiha bersiv da, 'Ez nizanim, ma ez li ber birayê xwe me?' REB got, 'Te çi kir? Xwîna birayê te ji nava axê ya ku devê xwe vekiriye û dixwaze Xwîna biratiyê ye te rijandiye ye.'" (Afirîn 4:9-11) 3
Kayîn red kir li mukurhatina gunehê xwe û nêzîkdayîna ber bi Xwedê ve bi xwîna berxekî ji bedêla ku vana bike, "Kayîn ji huzûra REB veqetiya." (Afirîn 4:16)
Kayîn qet tobe nekir. Li şûna ku têkeve riya Xwedê Û bejna xwe bitewîne, bi dû fikrên xwe ket. Kayîn bingeha şaristaniyeke bi hêz avêt, lê belê ev şaristanî ne ew civak bejna xwe li ber Xwedê bitewînin. 4 Civaka Kayîn jî nîjada wî jî di rêya xweperestî ya ku xwetêkber bi helkehelk bibeze.
Beşa çaremîn ya Afirandinê di heman demê de çîroka Lemekê ku ji bavê şeşemîn digihaşt Kayîn e. Lemek jî mîna kalikaê xwe bi kibîr, bi ser nefsa xwe de dimirî, kîndar û kujer bû. Gelek kesên zend û hunerê zarokên wî dan destpêkirin. Di gelek waran de xwediyê gelek zanînan bûn, lê Xwedê nas nedikirin.
Mirov tenê ji rêya rizgarkirinê ya Xwedê venegeriya di heman demê de jî ew jiyana ku Xwedê dixwest jî veqetiyan.
MIROVAHIYA KU TOBE NEKIRIYE
Piştî ku neh bavan bi Kayîn REB di derbarê nîjadê mirov de nirxandinek wiha dike.
"Xirabiyên ku mirov li rûzemînê dike pir in. Bala wan her car li ser xirabiyê ye." (Afirîn 6:5)
Di heyama pêxember Nuh de li rûzemînê de yên baweriya xwe bi afirînerê xwe tînin bi tenê Nuh û malbata xwe bû. Ew rika mirovî ku guh neda gotina Xwedê bû sedema tofaneke gerdûnî. Dîsa ji Xwedê lutf kir vê rêya ji tofanê xilasbûnê da ber mirovan lê ji wê lutfa Xwedê tenê heşt mirov îstîfade kir. Ew heşt kesên ku ji peyama Xwedê bawer kiribûn bi tenê Nuh, jina wî û kurên wî Sam, Ham û Yafet bû (Afirîn 6-8).
"Bi saya serê îmanê dema ku Nuh derbarê bûyera ku nebûye de hat hişyarkirin ji bo tirsa Xwedê û rizgarkirina xelqê malê keştiyek çêkir. Bi vê dinyê darizand û mîratxurê heqîqet xwe spartiye îmanê." (Îbranî 11:7)
Îro gelek alim digel ku henekên xwe bi beşa tofanê gerdûnîya 5 Pirtûka Pîroz dikin jî tu ji wan ji înkar nakin ku gelek cihên îro av lê miçiqîne berê di bin avê de bûn an di kolandinên li çolên mezin û li rezeçiyayan tê kirin de bi milyaran fosîlên aîdê behrê hene. Her çi qas keskesorê wekî nîşaneyeke Xwedê ya ku qet û bila careke din ew ê rûkala dinyayê bi tofanê nerûxîne biçûk bibînin û qîmet nedinê jî lê hebûna keskesorêyî piştî bahozeke baranê înkar nakin.
MIROVÊN HIŞÊ WAN TEVLIHEVBÛYÎ Û SEWHILDÊR
Digel ku mirov piştî tofanê bi destpêka nîpînû hatibin pîrozkirin jî, piştî bi tofanê bi çend nifşan ew ê dîsa serî li ber afirînerên û xwediyên xwe serî hildin û bi dû ramanên xwe yên berê bikevin. Ger em mînakekê bidin Xwedê ji mirovahiyê bikin (Afirîn 1:28, 9:1). Lê mirov di kirinên çi de bi biryar bûn? Riyeke tam dijberî Xwede hilbijartin!
"Ka werin em ji xwe re bajarek ava bikin û kuleyek ku digihije esmanan çêkin bi vî awayî em navê xwe bidin zanîn; wê demê em ê li rûzemînê belav nebin." (Afirîn 11:4)
Ka bala xwe bidin vê plana ku mirovan çêkiriye bê çi qasî xwenavendî û serhildêr re. Li şûna ku xwesteka Xwedê bêhempa û ji bo wan baş bişopînin planên bê ka ew ê çawa bi dû a zanyarîbûna xwe kevin û xwe navdar bikin, çêkirin. Belkî jî gotin "geremkuleyeke ku xwe bigihijîne esmên" çêkin dê dema ku tofan çêbibe ew ên xwe di ewlehiyê de bibînin. tu cudahî di navbera wan û hin mirovên dîndar, yên hêvî dikin ku ji darizandina Xwedê jiyaneke bihev re lê tenê li cihekî bi dawî kirin.
REB dizanîbû ku planeke wisa ew ê nîjada mirov di demeke kin de birizîne û tune bike. Dê ka em di vê rewşê de binerin bê ka Xwedê çi kiriye û di heman demê de heta heyama dîrokê yê îro, "Hemû mirovên dinyayê heman ziman bi kar tînin heman gotin bi kar tînin" (Afirîn 11:1).
"REB got, 'hey ku bûne gelek û bi zimanekî diaxivin ji bo ku ramanên xwe pêk bînin wê tu astengan nas nekin. Ka werin em dakevin jêr zimanê wan tev hev bikin ji bo ku tiştekî ji hev fam nekin.' Bi vî awayî REB wan li çar aliyê rûzemînê belav kir û avakirina bajêr sekinand." Ji ber vê sedemê navê Babîl li bajêr hat kirin. Ji ber ku Xwedê zimanê hemû mirovên li wir tevlihev kiribû û ew çar aliyê rûkala dinyayê belav kiribû.(Afirîn 11:6-9)
Mirov bêyî ku hev fam bikin û barûya xwe temam bikin nîvco hiştin. Wekî berê Xwedê dabû ber wan li çar aliyê rûkala dinyayê belav bûn. "Ji ber sedemê navê Babîl li bajêr hat kirin." Babîl tê mana tevliheviyê.
Dema ku projeya Xwedê tê redkirin her daîm tevlihevî çêdibe.
GIRŞEYA XELET
Dersa ku divê mirov ji mirovên zemanê Nuh û ji wan kesên ku hewldanên ku Kuleya Bab3il înşa bikin ev e.
Girse xelet bû.
Digel ku gunehkaran xwe bi rastiya ku bi milyaran kes bi wan re di heman fikrê de ne jî daraza Xwedê bi ser wan de çû. Gelek kes heta roja îro jî difikirin ku ji ber ku fikra wan ya derbarê peyama Xwedê de ji hêla gelek kesan ve tê pejirandin.
Yekî li Brîtanyayê dijî bi posteya elektronîk ev nîşeya jêr şand.
Posteya Elektronîk

Ger hûn dixwazin ji dojehê rizgar bibin, wê gavê bidin dû dînê ku herî zêde bi lez belav dibe
Ger belavbûna bi lez an jî hejmaran bikaribin heqîqet îspat bikin wê gavê nîjada Kayîn, mirovên di heyama Nuh de û yên li Babîlê jiyana xwe didomandin divê mafdar bûna. Lê ev mirov hemû jî bi xete bûn - ji binî de bi xeta bûn.
"Di deriyê teng re têkevinê. Ji ber ku deriyê ku ber bi tunebûnê ve dibe fireh û pahn e. Yên di vî dêrî re dikevin pir in. Lê belê deriyê ku ber bi jiyanê ve dibe teng e. Rê jî çetîn e. Yên ku vê rêyê dibînin hindik in." (Matta 7:13-14)
PLANA XWEDÊ YA KU NAYÊ SEKINANDIN
Ka em vegerin çîroka derbarê malbata ewil de û em fêr bibin piştî ku Kayîn Habîl kuşt çi bû.
"Adem dîsa bi jina xwe e raket. Hewa kurikek anî. Got 'Xwedê ji bedêla Habîlê ku Kayîn kuştiye kurikekî din da min' û navê kurik kir Şît. Kurikekî Şît jî çêbû navê wî kir Enoş. Wê gavê mirovan bi navê REB bang wî kirin." (Afirîn 4:25-26)
Ew pêşnûma û projeya Xwedê ya ku dixwest bibe gelekî ku baweriya xwe bi wî anîne kesî nikarîbû asteng bikira.
Mana navê Şît ev e: "Ji bedêla wî bexşandin." Hewa fam kir ku Xwedê ji bedêla Habîlê ku Kayîn ew kuştibû tovek bexşandiye. Ezbetajinekê hatiye wehdkirin bi rêya nîjada Şît bê dinyayê.
Diya Îsa keça azib û xama Meryem jî ji nîjada Şît bû. Meryem di heman demê de wekî Xwedê wehd kiribû ji nîjda Birahîm û Dawud jî dihat. Şeytan ji bo ku plana Xwedê xira bike çi qasî di berxwe bide jî plana Xwedayê REB "beriya destpêka dinyayê" çêkiribû di rêya xwe de berdewam dikir.
Tu tiştî û tu kesî ew plan neda sekinandin.
NAVÊ REB
Şît jî wekî Habîl bi Xwedê û bi rêya bexşandinê ji Wî bawer bû û "navê REB bang kir." (Afirîn 4:26) gelê Babîl yê di hemû qirnan de ji bo ku navdar bibin hewldane di vê dinyaya ku mirov tê de dijîn de mirovên mîna Habîl û Şît yên ku bi navê REB bawer dikirin û navê wî bang dikirin jî jiyana xwe domandin.
Hinek hevalên min ji min re dibêjin ku sed heb navên Xwedê hene. Lê belê ji wan tenê bi nod û neh hebên wan dizanin. Gelo ew navê kêm yên di lîsteya wan de dibe ku yê tê maneya "REB rizgar dike" bibe?
Ew nav kîjan nav e?
Erê ev nav Îsa ye.
Bawerpêneanîna bi vî awayî – Ka ew kî ye û çi dike- netewandina serî ya li ber Xwedê ye.
De ka werin em guh bidin duaya ku Pavlûs ji Cihûyên oldar û serhildêr re kiriye.
"Biranîno! Ez ji dil û can bêriya rizgarbûna Cihûyan dikin. Ji ber vê sedemê ez ji Xwedê re laveyan dikim. Ji bo wan ez dikarim bibim şahid ku ji bo Xwedê bi xîret in, lê belê ev ne xîreteke bi zanebûn e. Ji ber ku heqîqeta ku dibêje fam nakin û dixwazin heqîqeta xwe belav bikin dixebitin serî li ber heqîqeta ku Xwedê digot serî netawandin. Lê belê ji bo her yekî ku îman dike bêguneh bibe Mesîh dawiya zagona pîroz e… Encax tu eşkere bi devê xwe bibêjî Îsa Reb e û ji dil pê îman bîne ku Xwedê ew ji mirinê vejandiye, tu yê rizgar bibî. Ji ber ku Nivîsa Pîroz dibêje, 'ku yên îmana xwe pê anîne ew ê tu carî fedîkar dernekevin.' Ji ber ku cudahî di navbera Cihû û Grekan de tune. Heman Reb rebê hemûyan e. Destê Wî li ber hemû kesên ku bang Wî dikin vekiriye. Ji ber ku hemû kesên ku bi navê Wî bang li Reb dikin ew ê xilas bibin." (Romayî 10:1-4,9,11-13 [Yoel 2:32])
BI QÎMET E AN BÊ QÎMET E?
Ka em bihesibînin ku çekeke bankeyê yek mîlyon dolarek li ser navê we hatiye nivîsîn. Dema ku mirov li çekê dinêriya tiştekî pir rind dixuya, lê belê bê qîmet bû. Çima?
Ji ber ku di hesabê min yê bankayê de pereyekî ku bi qasî perê çekê bike tune ye!
Baş e.Ger zilamê herî zengîn yê dinyayê li ser navê we çekeke yek mîlyon dolar binivîsand?
Ew ê tu pirsgirêk derneketa. Ji ber ku ew ê perêyê ku ji bo çekê hewce hebûya.
Bankaya ku çeka min îmze kiribû red kiribû ew ê çeka ku îmzeya mirovê zengîn lê qebûl bikira û pereyê beramberî çekê bidaya.
Dinyaya me tije mirovên ku bi navên cuda nêzîkî Xwedê dibin tije ye. Lê belê di çavê Xwedayê ku Kurê xwe ji bo mirov deynê xwe yê guneh bide tu qîmetê wan navan tune ye. Navên bi guneh  hatine lewitandin e.
Mîna ku banka beramberiya çekan li ser navê min ya ku min îmze kiribûn û yek mîlyon dolar nedaye Xwedê jî ew ê ji bilî navê Îsa bi rêza tu navî efû neke û jiyanê îhsan neke.
"Di tu kesên din de rizgarî tune ye. di bin vî ezmanî de tu navê ku ji mirovan re hatiye bexşandin û navekî ku me rizgar bike tune ye." (Karên Qasidan 4:12)
Gelo hûn dixwazin ku deynê we yê gunehan ji deftera qeydê ya Xwedê bê jêkirin û rastiya Wî dewlemendiya wî derbasî hesabê we bibe? gelo hûn dixwazin di ser naleta guneh re serfiraz bibin û niha heta dawiya dawî têkiliyeke nêzîk bi afirînerê me re bijîn?
Wê gavê yê ku van tiştan ji we re pêk bîne bi tenê navek e.
"Wê gavê yên ku REB bi navê Wî gazî dikin ew ê rizgar bibin." (Yoel 2:32)
"Îmanê bi Reb Îsa Mesîh bîne tu jî û xelqê malê jî dê rizgar bibin." (Karên Qasidan 16:31)
Gelo hûn ji dil bawer dikin ku Reb Îsa Mesîh ji bo ku cezayekî gunehê we bide êş kişandiye, miriye û ceza û gunehê we ji holê rakiriye?
Wê gavê hûn ê "rizgar bibin."
TENÊ DU DÎN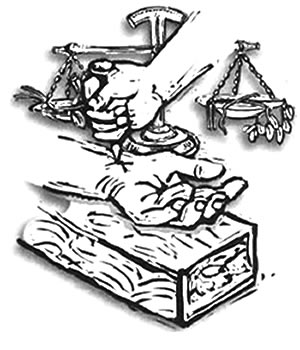 Em piştî ku me dît li dinyaya we zêdeyî deh hezar pergalên dînî hene me dît em derketin rêwîtiyê. Lê di esasa xwe de du pergal hene.
Pergala serkeftinê ya mirov ji we re dibêje divê hûn xwe rizgar bikin.
Pergala serkeftina Xwedayî ya dibêje pêdiviya we bi Rizgarkerekî heye.
Heta ku hûn xwe bi xwe hewl bidin xwe xilas bikin ji navan an jî dînên yek jê dibe ku kêrî we bê. Lê belê dema ku we ferq kir ku pêdiviya we bi Rizgarkereî heye ew ê tenê navek kêrî we bê.
Ew nav Îsa ye.
"Hemû pêxember derbarê Wî de şehadetiyê dikin. Bi vî awayî hemû gunehên kesên ku pê îman anîne bi navê Wî tên bexşandin." (Karên Qasidan 10:43)
---